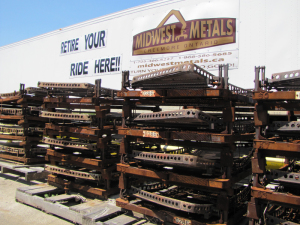 Midwest Metals has the capacity to meticulously remove your industrial recyclable metal in a timely fashion. Our equipment can be transported to your property with all safety standards and protocols in place. For your Commercial and Residential needs, Midwest Metals can supply both 30yd. And 40yd. Bins at your convenience. Trailers are available upon special request.
Payment for the loads will be based on the incoming days rate, less the  freight charges.
Only Metal substance will be paid for in the containers, the weight of all other material will be deducted.
Compressed Gas cylinders are to be placed beside the Bin for pick up.
Midwest Metals services a vast area. Please refer to our map. Our friendly staff will be glad to assist you with any questions.